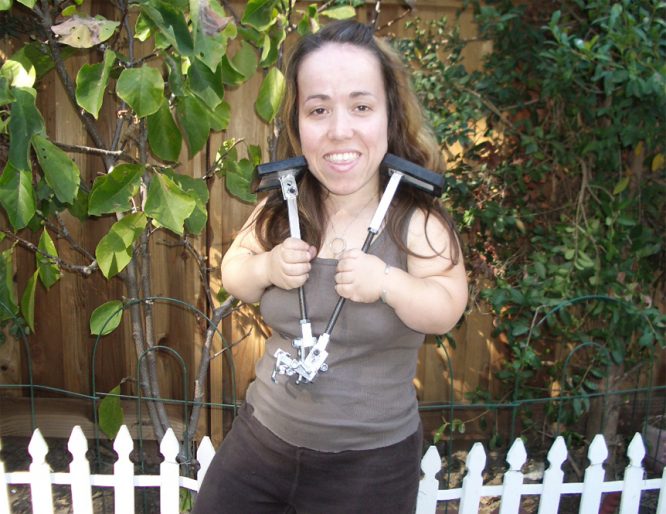 Nico is 3'7" tall, weights about 80 lbs. and has an inseam of 12 inches long to the floor. She is driving a 99 Toyota Rav 4. She uses a buster seat to give her lift, so he's able to see over the steering wheel and have support.
She is uing a 13" GX0317 gas extender and a 11" BX4518 break. Please note how the calfs of her legs are supported by the seat and her feet con move over the tops of the gas and break pedals quickly.
The extenders have large pedal pads to ensure excellent footing even on rainy dys. With a ratchet, 7/16" and 1/2" deep sockets, they can be installed and removed quickly. The extenders have a 3" adjustability, making it nice to transferr between other vehicles. The gas and break set weigh less then 3 pounds, making them easy to carry. You can see how the j-bolds hook around both the gas and break pedals securely.
Nico likes being independent, travels to work, seeing her friends and shopping. Because she lives in Los Angeles, she needs to drive the busy streets and freeways to get around.
The pedal extenders are great for driver's education, car rentals and are currently being used by thousands of short stature individuals who are 2'7" to 4'7" tall.